The properties currently within our German portfolio under management, where the investments were sourced and structured by Youngfields OCP Ltd are as follows:-
Circa 25,800m2 of rentable space, close to 95% commercial, the remainder are residential apartments.
Gross rent roll at full occupancy, ex VAT , circa €2.1M.
We have our own Irish investment management vehicle, Smerwick Management Ltd, and we also purchased the German property management company, Property Solutions GmbH, based in Stuttgart, which manages the individual assets locally in Germany.
The assets were purchased for different small Irish syndicates in the period 2006-2011, with a 5-7 year investment horizon. We have already sold some assets purchased in 2006/07, comprising c20% of the portfolio.
The assets are clustered in three different areas of Germany. A large part of the portfolio is within the affluent greater Stuttgart area where our relationships started and where our property managers are located. In addition there are investments in some of the larger urban centres in Nord Rhein Westphalen , namely  Dusseldorf, Krefeld, Solingen, and Gelsenkirchen, and some  residential properties in the East in the greater Dresden area , and a medical centre also in the East in the city of Chemnitz.
== CLICK ON IMAGES TO SEE LARGER VERSIONS ==
SAXONY / NRW SMALL PORTFOLIO ; Dresden , Bautzen , Grossenhain , Solingen, Germany
This is a well diversified "East West" portfolio of 5 smaller properties set up 2007-2009, financed competitively in one package by DKB Bank.
Dresden ( 11 apartments ) , Bautzen ( 5 apartments ) ,both fully renovated in the 1990s, Grossenhain ( 4 apartments ) unrenovated , all period properties in Saxony.
Solingen – Talstr – attractive c1900 corner block, close to main shopping area. Ground floor retail with 6 apartments overhead, all renovated.
Solingen – Konrad-Adenauer Str – 1950s property in strong commercial location on main artery into city centre. Ground and first floor recently re-let to a public organization.Second and third floor comprise 1 office unit, and 2 apartments.
GROSSENHAIN SAXONY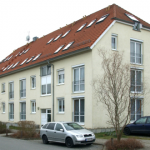 43 modern apartments (2,692m2) in 5 blocks in the town of Grossenhain , 20 minutes from Dresden . Developed in the mid-1990s, purchased in 2007 in a bank restructuring deal. Strong re-letting record, very high occupancy on average.
DUISBORG-MARXLOH, NRW
Four apartment blocks (2,107m2) containing 36 apartments plus some work spaces and garages, originally built for the workers in the local steelworks, all located in one central neighbourhood.